Choosing the Perfect Size of Poquito Pants™
Poquito Pants™ are made to fit snugly. To insure the best fit, please use leg and waist measurements. For the waist, measure slightly below the navel and, for the legs, measure around the hip joint, not around the thigh. One thing to consider is which size will fit your child best and give you the most use. If your child is due for a growth spurt, be sure and take into consideration that a higher rise may work better for you.
The pants should fit closely at small of the back and sit low in the front, just below the navel. To get an idea of how the rise will fit on your child, hold a measuring tape or a ribbon at the small of the back and bring it up between the legs to check how high it will be in the front. Remember that Poquito Pants™ will fit fairly close in the crotch.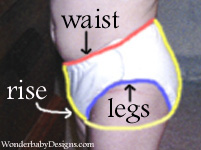 *Pants made in interlock fabrics will run a bit bigger than the waterproof pants.
Classic side-snap Poquito Pants™ sizes
sizes
approximate age
rise
waist
legs
small
(newborn)
newborn - 3mo
11"
(28 cm)
12" - 18"
(30 - 46 cm)
8" - 11"
(18 - 28 cm)
medium
(infant)
2 - 9 months
13"
(33 cm)
12" - 19"
(30 - 48 cm)
9" - 13"
(23 - 33 cm)
large
(infant/toddler)
6 mo - 2 yrs
15"
(38 cm)
13" - 22"
(33 - 56 cm)
9" - 15"
(23 - 38 cm)
large hi-rise
(toddler)
18 mo - 3+ yrs
16"
(40 cm)
13" - 22"
(33 - 56 cm)
9" - 16"
(23 - 41 cm)
Pull-On Poquito Pants™ sizes
sizes
approximate age
rise
waist
legs
medium
(infant)
3 - 12 months
13.5"
(34 cm)
13" - 16"
(33 - 40 cm)
8" - 12"
(18 - 40 cm)
large
(infant/toddler)
9 - 18 months
16"
(41 cm)
14" - 18"
(36 - 46 cm)
10" - 14"
(25 - 35 cm)
extra-large
(toddler)
18 mo - 3+ yrs
17.5"
(44 cm)
15" - 20"
(38 - 51 cm)
11" - 15"
(28 - 38 cm)